Tired of your usual cardio workout? Here are 19 reasons to put on your dancing shoes!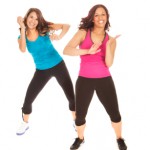 Dance fitness is becoming popular in gyms and dance studios everywhere, and it's no surprise to those of us devoted to fitness. Dancing is a great way to spice up your routine by combining exercise with enjoyment and offers you almost endless possibilities so you don't get bored.
From ballroom to Latin-inspired dances such as salsa, reggae, mambo, Zumba®, and many more, there is something for everyone.
The most important thing to remember when dancing is that it doesn't matter what you look like or whether you remember all the steps. All that matters is that you are moving and having fun.
---
Calories burned will differ from person to person depending on fitness level, age, weight, and intensity put forth. Expect to burn about 600 to 1,000 calories during one hour of dance.
If that's not enough to get you ready to shimmy and shake your way to good health, here are 19 great reasons:
The Power of Dance
Build your muscular strength and endurance.
Increase your stamina and ability to do continuous work.
Improve your balance and coordination.
Strengthen your circulatory system and lungs.
Improve control of blood sugar and cholesterol levels.
Boost your immune system.
Strengthen your heart and lower your heart rate.
Decrease your blood pressure.
Boost your energy level.
Decrease stress levels.
Slow the aging process and add active years to your life.
Support weight loss and maintenance.
Strengthen core musculature.
Reduce your risk of fractures and osteoporosis.
Enjoy a party-like atmosphere and a fun experience.
Personalize your workout by personalizing your dance steps.
Get away from the monotony of everyday life.
Sweat without really realizing the effort that you are putting in.
Expend maximum calories while improving cardiovascular fitness with routines that feature interval training with fast and slow rhythms.