Fitness and Nutrition
Programs That Work
in the fight to prevent illness, eating a healthy diet and engaging in regular physical activity are key.
Are you tired of fitness and nutrition programs that promise the world but fail to deliver results? At Preventous, we take a different approach to your health.
As a medical facility, we ensure that you receive only proven, medically sound programs delivered by highly trained and educated professionals.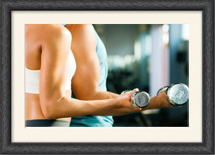 We Work With You To:
Assess your current fitness and nutrition and discuss your needs and goals
Develop fitness and nutrition plans you can stick to
Assess and refine your plans as you meet and exceed your goals
Fitness and Nutrition Programs
Personal Training
Fitness Assessments
Massage Therapy
Active Release
Nutrition Assessments
Nutrition Coaching
Resting Metabolic Rate Testing
Grocery Tours
Nutrition Maintenance
Take the First Step to Lifelong Health
Call us to schedule a consultation with one of our fitness and nutrition professionals. We will be happy to discuss your needs and objectives and design a program that is customized for you and give you the results you want.