As a medical facility, we take personal training seriously.
Personal training must be customized to your specific needs, lifestyle and the capabilities and limitations of your body.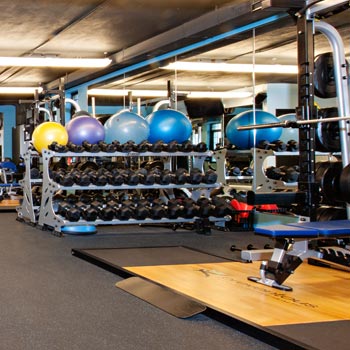 What Sets Our Personal Training Apart?
Our personal trainers are highly qualified to prescribe a personal training program that is not only effective, but safe. As part of a collaborative medical facility, our trainers consult with our physicians and registered dietitian to ensure your training isn't compromising your health.
Read our personal trainers' bios.
Their qualifications include:
Bachelor of Kinesiology
Kinesiology is the multidisciplinary science of human movement and how it affects individuals' health and performance.
Kinesiologists study anatomy, physiology, biomechanics, psychomotor behavior, and sociological factors, all of which contribute to your fitness and health. A kinesiology graduate is educated and prepared to focus on the impact that lifestyle and exercise have on your body. Read more about Kinesiologists.
CSEP Certified Personal Trainer
CSEP (the Canadian Society for Exercise Physiology, accredits professionals who acquire the highest level of expertise and standards in kinesiology.
A CSEP-CPT requires at least 2 years of accredited post-secondary education along with internal training in specific core competencies, including: exercise testing, prescription and design, motivational strategies, documentation and professionalism.
The investment I'm making in myself by working with Colin is the best I've made for many years. I've lost more weight, I'm fitter and I'm definitely stronger – I carry the 40 lb. bags of dog food into the house now, much to the delight of my wife.."
Read More...
Our Personal Training Objectives
Our goal is to make your personal program safe, rewarding and effective. We:
Build customized programs to suit your needs and lifestyle
Set SMART goals (Specific. Measurable. Attainable. Realistic. Timely.)
Keep you motivated and accountable
Challenge you for continual improvement
Develop creative exercise programs
Help you reach the top of your chosen activity
Personal Training Specialties
Weight loss/ weight management
Sport-specific training and conditioning (runners, triathletes, football, hockey, soccer, basketball, volleyball)
Strength and conditioning
Teen fitness
Injury rehabilitation
Muscle testing and functional movement
Exercise testing, prescription and design
Prevention and management of disease and injury
Body composition analysis
Movement efficiency and balance
Complimentary Personal Training Calgary Session
Still not sure we're the right choice? We'll make it easy for you to decide.
Call us at 403.229.0129 to schedule a complimentary one-hour session combining:
a consultation with a personal trainer to educate you and answer your questions
hands-on demonstration of training techniques (be sure to bring workout gear)
You'll discover why Preventous is the right choice for personal training in Calgary.