Total Nutrition Assessment
The Preventous Total Nutrition Assessment is a great starting point for anyone working with a nutrition professional for the first time. Your assessment includes: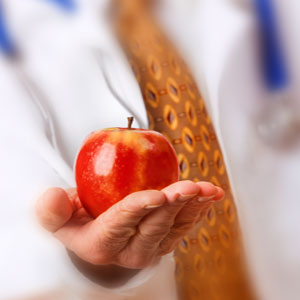 Detailed Review of your Health Status, Weight History and Current Health Goals
By uncovering how your choices and lifestyle habits are influencing your current state of health, the registered dietitian can make recommendations to optimize your efforts to achieve your peak health and weight through a sustainable and medically sound approach.
Analysis of Your Current Dietary Habits
Micronutrients consist of trace minerals, vitamins and phytonutrients that enable the body to produce enzymes, hormones and other essential substances for optimal health and wellbeing. Small quantities of these micronutrients are needed to orchestrate a range of physiological functions, and despite the tiny amounts required, the consequences of their absence in our diet can be detrimental to our health.
Before your first visit, we ask you to track your food intake for three to five days using the tracking forms we will give you. Recording your actual intake allows the Registered Dietitian to determine how closely you meet your nutritional needs, and this will allow us to create an accurate plan that works with your lifestyle and helps you achieve your goals.
Anthropometric Analysis (Body Composition)
This is a comprehensive assessment that takes into account your age, gender, height, weight and body composition. Body composition is determined by Bioelectrical Impedance Analysis (BIA). BIA is considered one of the most exact and accessible methods of screening body fat.
Blood Work*
*If required, your Registered Dietitian, in collaboration with the medical team, will analyze important laboratory markers to further evaluate your specific nutritional and health needs.
After Your Assessment
Realistic Goal Setting
The Nutrition Assessment includes a second follow-up session with a detailed discussion and a custom lifestyle plan with personalized nutritional recommendations. It is based on a complete analysis of your specific goals, preferences, metabolic needs and lifestyle factors.
Total Nutrition Assessment
Complete analysis of your resting metabolic rate (RMR), your current caloric intake, micronutrient status and lifestyle factors. You'll receive nutrition recommendations, resources and a meal plan customized for your needs and lifestyle.

2 sessions (2 hours total)
$295

(plus GST)
Total Nutrition Assessment for Couples
This is a great option for those wishing to improve their health, nutrition and lifestyle with a partner, family member or friend. Sessions may be booked together or separately.
2 sessions per person (4 hours total)
$495

(plus GST)
Nutrition Maintenance Package
This is an ideal program for those who would benefit from longer term support and accountability. Starting with a Total Nutrition Assessment, the Maintenance Package adds value with 5 additional follow up sessions to monitor progress, add accountability and provide ongoing support . Sessions can be booked at intervals best suited to your needs.
7 sessions (4.5 hours total)
$595

(plus GST)
Resting Metabolic Rate (RMR) Testing
Preventous is one of only a few facilities in Calgary that provides metabolic testing of this kind. Everybody burns energy (calories) at a different rate, to perform fundamental functions such as breathing and circulation. This is where we often hear conversation about 'slow' and 'fast' metabolisms. Your resting metabolic rate is the number of calories your body requires in a state of rest. While most programs offer a metabolic rate estimate based on a standardized formula calculation, your dietitian will perform a direct measurement of your individual metabolism to determine the ideal energy and nutrient need for you. Our technology provides on-screen and printed results in just 10 to 30 minutes. The printout is ideal for maintaining records and will help you and your clinician understand the results of the test.
1 session (30 minutes)
$150

(plus GST)
Body Composition Analysis
This is a comprehensive assessment that takes into account your age, gender, height, weight and body composition. Body composition is determined by Bioelectrical Impedance Analysis (BIA). BIA is considered one of the most exact and accessible methods of screening body fat.
We use the latest medical-grade, multi-frequency technology to provide a comprehensive range of body measurements, including segmental body fat analysis, muscle mass, levels of visceral ('belly') fat, and intra/extra cellular body water. Bioelectrical Impedance Analysis is non-invasive, and one of the most thorough and reliable ways to measure body composition, clinically comparable to DEXA (dual-energy x-ray absorptiometry) and hydrostatic (underwater) weighing.
1 testing session & result consultation
$150

(plus GST)
Nutrition Education Sessions
These sessions are best for individuals who wish to focus on specific areas of interest such as: disease management; heart health; nutrition in pregnancy; diabetes management; high blood pressure; weight loss; digestive concerns; cancer prevention and management; childhood nutrition; the benefits of increasing/decreasing specific nutrients; supplements; pre and probiotics; and more. Many health and nutrition topics can be covered, please inquire directly for more information.
1 session (60 minutes)
$150

(plus GST)
Virtual Nutritional Assessment
Virtual assessments are available with our Registered Dietitian. Proper health and nutrition are essential now more than ever and we are here to help you with your goals wherever you are. Virtual assesments are availble for purchase online.
Virtual Nutritional Assessment – $150

(plus GST)

Diabetes and Pre-diabetes Virtual Nutritional Assessment – $150

(plus GST)
Combined Fitness & Nutrition Programs
Get Started Package
It is no secret that positive changes to your diet and physical activity will have a big impact on your health, however knowing where to start can be overwhelming and discouraging. Let us help guide the way to a healthy, sustainable lifestyle! Working one-on-one with our registered dietitian and certified exercise physiologist, the Getting Started program will provide you with a comprehensive analysis of your baseline values and how to implement changes into your routine. Includes a Total Nutrition Assessment combined with a Fitness Assessment.
4 sessions (4 hours total)
$525 + Fitness Assessment package

(plus GST)
12-Week Lifestyle Programs
While exercise and nutrition are both important in your journey towards your health goals, combining them has been consistently shown to help you achieve effective, balanced and lasting results. This Lifestyle Program combines personal training sessions with a comprehensive nutrition assessment and two additional sessions of nutrition counselling.
Personal training is available in packages of 5, 10, 20, 30, 40 or 50 sessions. Our Exercise Physiologist will help you attain your fitness goals and motivate you along the way.
4 sessions (4 hours total of nutrition counselling)
$450 + Personal Training package

(plus GST)
* The services in these programs, with the exception of personal training, are included in the Twenty-Four Seven Club membership fee. See our Personal training package prices.