The dropping temperatures and shorter days of winter can leave the best of us feeling more fatigued, less physically active and reaching for the warmth, energy and comfort of food.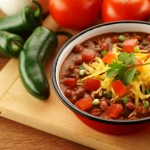 Comfort food is food that tends to be consumed to perk up emotions, to relieve fatigue and emotional stress, or to increase positive feelings. Often, the foods we think of as comfort foods aren't the best foods for us. Changing your ideas about what is and is not comfort food can help you reap the benefits without the guilt.
According to Webster's Dictionary, the term "comfort food" was first used in 1977. What makes a food a comfort food? In a research study conducted in the U.S., men preferred warm, hearty foods, such as soups, casseroles, and meat, while women preferred snack-related foods, like chocolate and desserts. Perhaps not surprisingly, the same study also found a strong connection between consumption of comfort food and feelings of guilt.
While eating for purely emotional reasons is generally discouraged, few things can compare to the comfort and enjoyment of a warm, home-cooked meal at the end of a long frosty day. Here are some comfort meal ideas that are delicious, nourishing and completely guilt free. Enjoy!
---
Turkey Mushroom Chili
This recipe uses mushrooms to maintain the protein and flavour while minimizing saturated fat.
Ingredients:
454 g lean sausage
454 g lean ground turkey
1 cup chopped onion
454 g fresh mushrooms, sliced
1L vegetable juice
1 can (180 mL) tomato paste
1 teaspoon sugar
1 teaspoon salt
1 teaspoon garlic powder
1 teaspoon dried oregano
1 teaspoon Worcestershire sauce
1/2 teaspoon dried basil
1/2 teaspoon black pepper
Sour cream (optional)
Directions:
In a large saucepan over medium heat, cook sausage, turkey and onion until meat is browned. Drain off fat.
Stir in mushrooms, vegetable juice, tomato paste, sugar, salt, garlic powder, oregano, Worcestershire sauce, basil and pepper. Bring to boil, then reduce heat and simmer, covered, for 1 hour. Garnish meaty mushroom chili with sour cream, if desired.
Preparation time: 10 minutes
Serves 8
---
Grilled Eggplant Parmigiana Sandwich
This recipe is low in cholesterol, high in calcium and high in fibre.
Ingredients:
1 large eggplant, (1 1/4-1 1/2 pounds), cut into 12 1/4-inch-thick rounds
Olive oil cooking spray
1/4 teaspoon salt
3 tablespoons finely shredded Parmesan
1/2 cup shredded skim mozzarella
4 small pieces focaccia
2 teaspoons extra-virgin olive oil
5 ounces fresh baby spinach
1 cup crushed tomatoes, preferably fire-roasted
3 tablespoons chopped fresh basil
Preparation:
Preheat grill to medium-high.
Place eggplant rounds on a baking sheet and sprinkle with salt. Coat both sides lightly with cooking spray. Combine Parmesan and mozzarella in a small bowl. Brush both sides of focaccia with oil.
Place spinach in a large microwave-safe bowl. Cover with plastic wrap and punch several holes in the wrap. Microwave on High until wilted, 2 to 3 minutes. Combine tomatoes and 2 tablespoons basil in a small microwave-safe bowl. Cover and microwave until bubbling, about 2 minutes.
Place all your ingredients on the baking sheet with the eggplant and take it to the grill. Grill the eggplant slices until brown and soft on both sides, 2 to 3 minutes per side. Grill the bread until toasted, about 1 minute per side. Return the eggplant and bread to the baking sheet. Reduce grill heat to medium.
Place 1 eggplant round on top of each slice of bread. Layer 1 tablespoon tomatoes, 1 tablespoon wilted spinach and 1 tablespoon cheese on each slice of eggplant. Repeat with the remaining eggplant, sauce, spinach and cheese. Sprinkle each stack with some of the remaining basil. Place the baking sheet on the grill, close the lid and grill until the eggplant stack is hot and the cheese is melted, 5 to 7 minutes.