Here's what to expect and what you need to do to prepare for your assessment.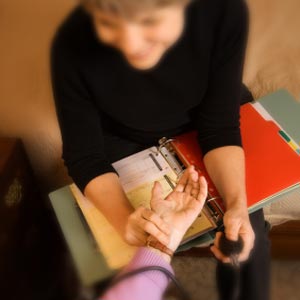 Scheduling Your Appointments
Initial Assessment Appointment
Please plan to spend approximately four hours at Preventous for the complete assessment. Most of our clients prefer to have the assessment done in one session but, if you can't get away for that long, we can schedule two separate sessions of approximately two hours each.
Review Session Appointment
After your initial assessment, schedule your appointment for the assessment review. The review takes approximately two hours and should be scheduled approximately two weeks after the initial assessment.
Fasting for Lab Work
Please do not have anything to eat or drink for 12 hours before your appointment. You can drink water and take prescribed medications. A snack will be provided after your lab work and resting metabolic rate tests are completed.
If you choose to complete you assessment in two sessions, you only have to fast for the first session.
What to Bring with You
Your completed Total Health Profile forms
Your completed Nutrition Intake forms
Comfortable workout clothing and running shoes (for your fitness assessment and review)
We provide shower facilities, lockers, grooming essentials and towels for your use.
What to Expect
The following is an outline of the typical process for your initial assessment. The exact order may change, depending on your specific requirements and our staff scheduling:
Nurse – review medical history, vision tests and vital signs.
Physician – review health history, physical examination, and further investigation of issues if required.
Registered Dietician – nutritional analysis, resting metabolic rate, body composition and dietary recommendations.
Kinesiologist – a full functional assessment is performed, including aerobic, strength and flexibility testing.
---
Cancellations
If you need to cancel your appointment, please let us know in advance and we will be happy to work with your schedule to set up a new time.
Preliminary Information Requirements
You are a member of your own team. To provide you with the most accurate information about your current health and how you can meet your health goals, we need your help. It's critically important for us to know as much as possible about your current and past medical condition and your lifestyle habits.
We provide you with the following comprehensive forms:
Total Health Profile
Nutrition Intake
After reviewing these forms with you and exploring some of the issues in further detail, we will better understand your unique issues and challenges and be ready to work as a team for your success.