Sun protection is necessary all year to protect the skin from UVA/UVB rays, but applying sunscreen throughout the day can be a pain—and wreck your makeup. Wouldn't it be great to have a non-greasy product that could give you broad-spectrum protection without interrupting your daily schedule or interfering with your makeup?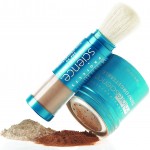 Sunforgettables is the first all-clear mineral powder sun protection with a broad-spectrum UVA/UVB protector. It comes in a brush/powder form and is easy to apply. There is no greasy residue or burning of eyes, and it is safe and effective for use on rosacea, eczema and acne.
Not only is it safe for all skin types, including reactive skin, it can be applied immediately after laser treatments and peels. Sunforgettables will not generate heat so application even after the skin has reached erythema is safe.
Sunforgettables is composed of 12% micronized titanium dioxide, 12% micronized zinc oxide, and sea mineral, which distinctively protect the skin.
Why not protect your skin and look great doing it?