A refreshing health-conscious treat.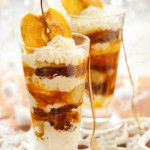 Ingredients
3 apples, diced (sweet varieties pair better with the tartness of the yogurt)
3 cups nonfat plain Greek yogurt
1/2 cup flaxseeds (ground)
4 tsp maple syrup or honey – use more or less to taste
3/4 cup sultana raisins
¼ cup walnuts, chopped
dash of cinnamon
Preparation
Set out 4 glasses or bowls.
In each, layer 1/4 chopped apple, 1/4 cup yogurt, 2 tsp ground flaxseeds, and 1 tbsp raisins twice in each glass.
Drizzle each parfait with 1 tsp of maple syrup or honey, and sprinkle with chopped walnuts and cinnamon.
Nutrition per serving
13g protein
6g fiber
4g fat (0 saturated)
265 calories
Serves 4